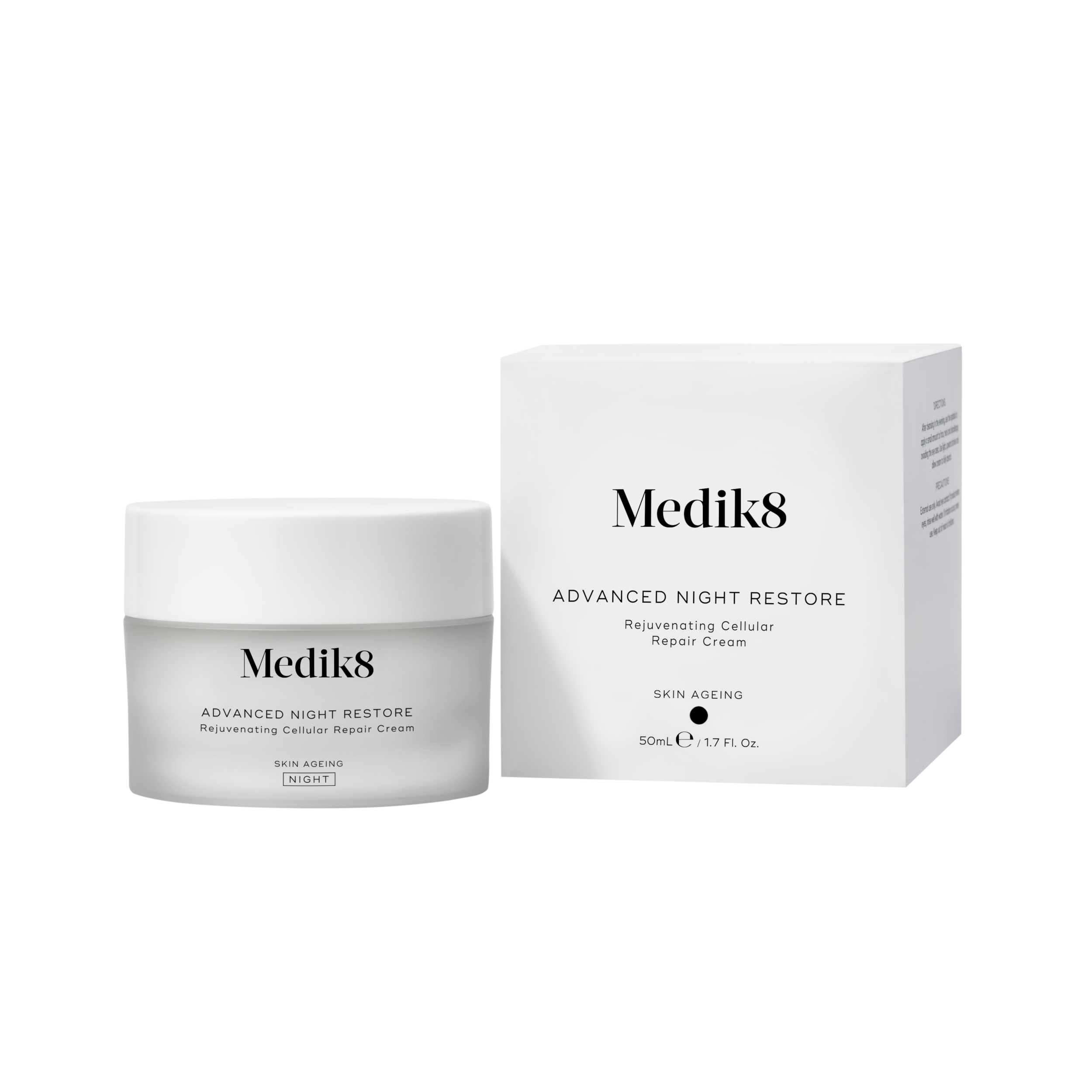 A rich yet fast-absorbing night-time moisturiser to combat visible signs of ageing while providing ultimate hydration. Infused with Medik8's signature Midnight Repair Complex, it maximises the power of skin's natural overnight renewal to reveal visibly younger, smoother skin. Enriched with an optimised ceramide complex to deeply nourish and improve the look of skin firmness and texture.
Key Benefits
An intensely moisturising antioxidant night cream with a calming botanical fragrance including lavender, sweet orange oil and neroli. Packed with antioxidants to flood the skin with restorative and protective benefits. The formula is deeply hydrating and absorbs into the complexion quickly. Skin feels smooth and plump, while the gentle aroma prepares you for a restful night's sleep.
Key Ingredients
Cell Repairing Peptides
An iron hexapeptide effectively neutralises free radicals which can cause premature skin ageing. This helps to prevent damage to skin cells and proteins.
Ceramide Complex
An intelligent combination of ceramide 1 and 3 alongside cholesterol and fatty acids which mimic the skin's natural lipid barrier; intensely restoring and nourishing.
Dragon Fruit Extract
Derived from the night blooming cactus of Mexico, dragon fruit extract provides exceptional antioxidant protection while lifting and toning the complexion.
N-Acetyl Glucosamine
This naturally occurring molecule in the body works synergistically with previously applied retinol serums to encourage the production of hydrating hyaluronic acid. N-acetyl glucosamine helps to block the creation of pigments in the skin, leaving a more even complexion.
Saskatoon Berry
The Canadian superberry, bright purple saskatoon is rich in anthocyanins; supercharged antioxidants with exceptional ability against damaging free radicals.
An advanced antioxidant night cream that works while you sleep to restore and deeply hydrate skin. Including Medik8's Midnight Repair Complex™, which features powerful antioxidants such as dragon fruit extract, saskatoon berry and restoring peptides to encourage cell repair throughout the night. Advanced ceramides are used in an optimised ratio to help plump and hydrate skin as well as restoring its natural defence barriers. Powerful antioxidants work to counteract damage caused by free radicals throughout the day. Designed to be used after vitamin A, the formula works perfectly alongside retinol to moisturise skin and leave the complexion smooth, supple and younger-looking.
Shop 7 Eatons Hill Village 640 South Pine Road Eatons Hill QLD 4037