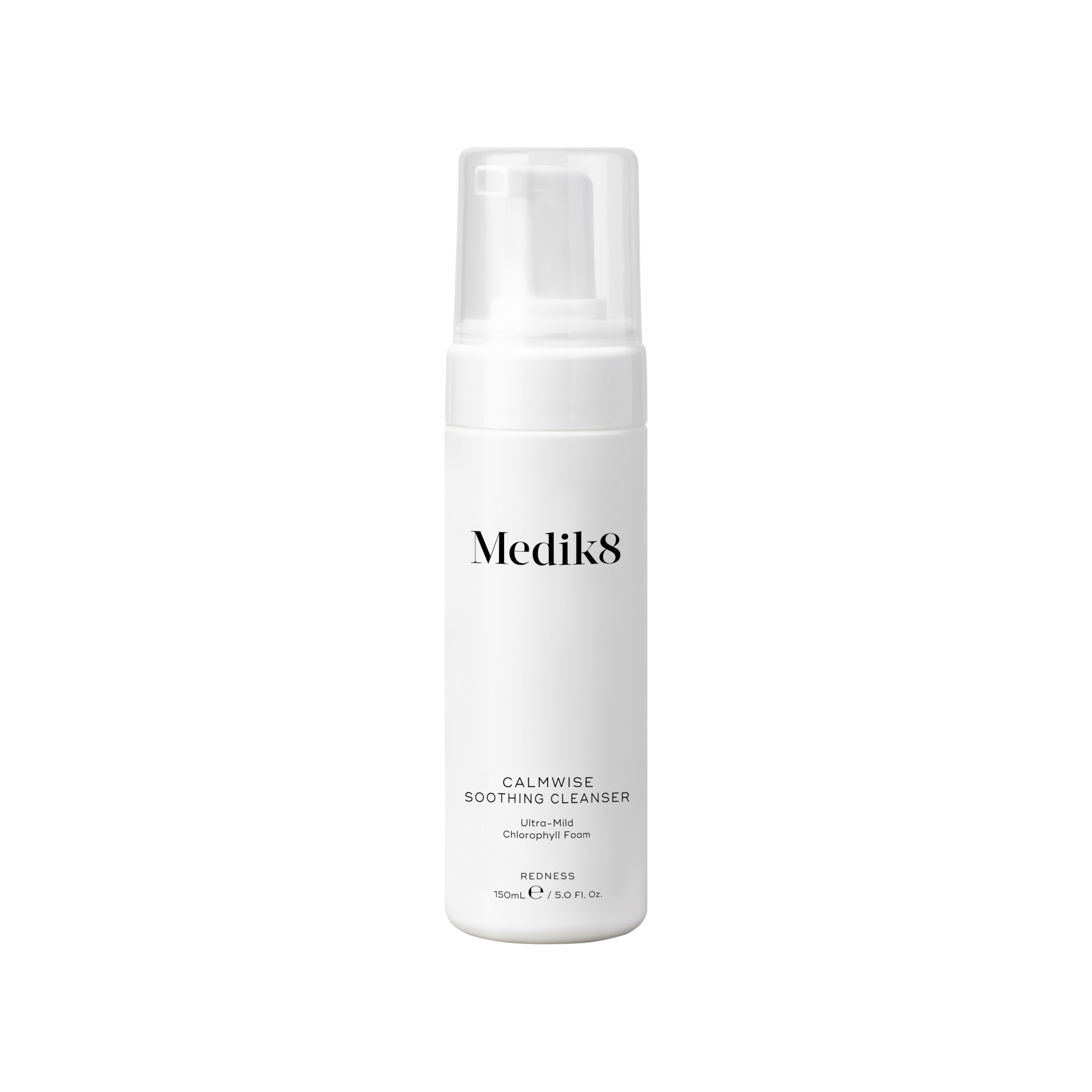 A soothing foam cleanser offering fast relief for sensitive skin. Crafted with chlorophyll and teprenone to cleanse away impurities without causing dryness.
Key Benefits
This gentle foaming cleanser has been specifically designed for redness-prone skin. Infused with calming, strengthening and conditioning actives, it helps to soothe sensitivity and improve skin health. Organise sweet orange oil gives the cleanser a light citrus scent, while also providing soothing and anti-inflammatory benefits to the skin. Calmwise™ Soothing Cleanser is pH balanced to care even for the most sensitive skins and is free from potentially irritating artificial fragrances, soaps and sulphates.
Key Ingredients
Chlorophyll
Naturally cleansing with powerful antioxidant properties, this purifying active gently detoxifies and balances the complexion to keep skin calm and protected. At the same time, it helps to boost the skin's natural regenerative cycle for a healthy, radiant glow.
Organic Sweet Orange Oil
Naturally fragrant, organic sweet orange oil softens and eases irritation for a soothed complexion.
Teprenone
A patented anti-redness active proven to prolong the life of skin cells by as much as a third. This helps to naturally enhance the skin's protective barrier, reducing the skin's sensitivity to external factors.
Vitamin K2
A powerful nutrient that strengthens capillary walls to help diffuse redness and sensitivity.
Sympathetic to sensitised skin, Calmwise™ Soothing Cleanser helps to control the appearance of redness at its root cause; providing fast relief for red, irritated skin. The foaming cleanser helps to calm daily environmental stress, soreness and surface irritation by improving the skin's barrier function and maintaining hydration. Fortified with naturally green chlorophyll for its healing and antioxidant properties, skin strengthening vitamin C to help improve skin health and patented teprenone to calm discomfort and inflammation. Impurities and make-up are gently cleansed away and skin is left comfortable, hydrated and detoxified without being stripped of its natural protective oils. The lightweight foam also helps to minimise the appearance of fine lines and wrinkles, enlarged pores and uneven skin tone.
Shop 7 Eatons Hill Village 640 South Pine Road Eatons Hill QLD 4037