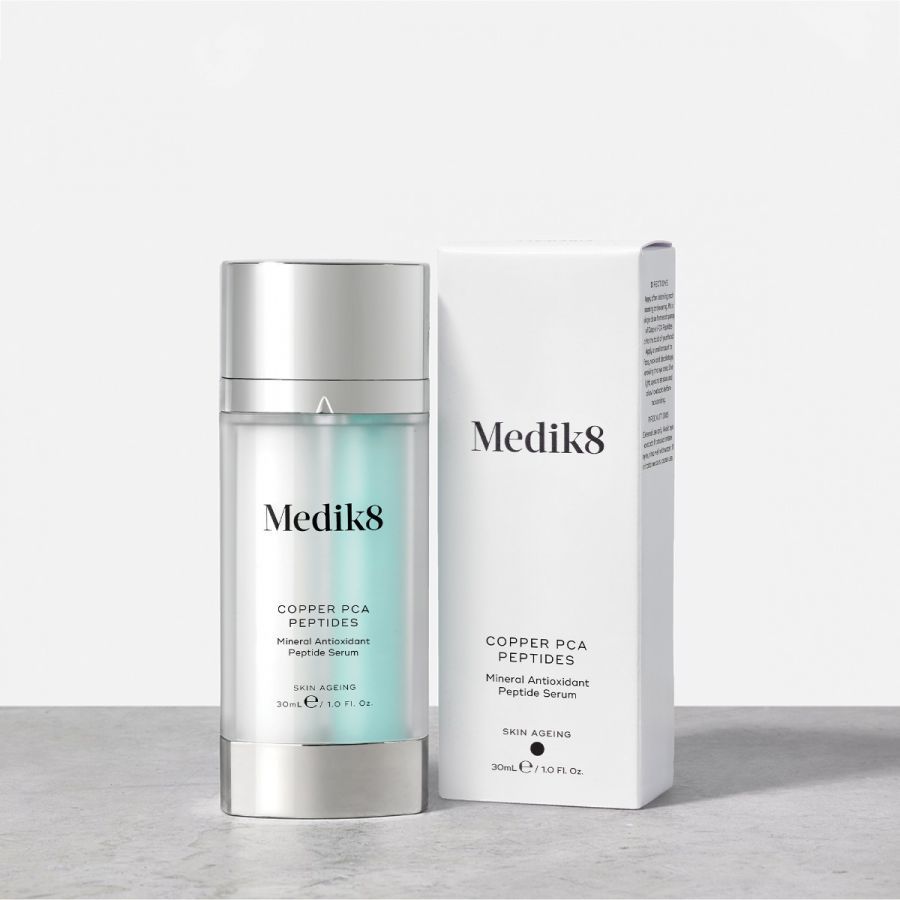 A mineral antioxidant serum that helps restore radiance and smooths skin. Includes copper PCA, a potent active with 40 times the antioxidant power of vitamin C.
Key Benefits
With antioxidant power 5 times stronger than the next best competitor*, Copper PCA Peptides is the ultimate defence against premature skin ageing. The energising serum is packaged in a dual-chamber pump to maximise stability and potency, ensuring the actives continue to work when they are applied to the skin. The neutral-scented formula sinks in rapidly; leaving skin feeling incredibly silky, hydrated and smooth.*Results from 3rd party independent tests assessing antioxidant performance
Key Ingredients
Anti-Ageing Peptide Complex
A combination of peptides that lift and firm the skin for a youthful-looking complexion.
Copper PCA
A patented, extraordinary ingredient with 40 times greater antioxidant performance than vitamin C.* Revolutionary copper PCA protects the skin from damaging free radicals and leaves the complexion soothed from inflammation.
Dimethylmethoxy Chromanol
Able to neutralise a broad spectrum of free radicals, dimethylmethoxy chromanol is a powerful antioxidant that offers comprehensive protection for skin.
Superoxide Dismutase
One of the most powerful antioxidants naturally found in the body, superoxide dismutase is exceptional at neutralising free radicals to prevent skin cell damage.
Vitamin E
A lipid-soluble antioxidant that is naturally present in the skin. Vitamin E protects the skin from free radicals, stabilises retinaldehyde, and is regenerated by vitamin C for optimum power.
Reboot your skin with Copper PCA Peptides (previously known as Firewall), a revolutionary serum expertly formulated to recharge and energise skin for next-generation anti-ageing results. Centred around copper PCA, a mineral peptide patented by Medik8 for its unprecedented antioxidant power, this serum neutralises a broad spectrum of skin-damaging free radicals to leave the complexion looking smooth, youthful and undeniably radiant. Think of it your skin with added vitality. Always at the forefront of skincare innovation, Medik8 was the first to unlock the full anti-ageing potential of this powerful mineral. Enriched further with an advanced complex of age-defying peptides including Matrixyl 3000, plus super-antioxidants superoxide dismutase and dimethylmethoxy chromanol, the award-winning serum lifts and smooths to keep skin looking plump, soft and hydrated while reducing the appearance of fine lines and wrinkles.
Shop 7 Eatons Hill Village 640 South Pine Road Eatons Hill QLD 4037