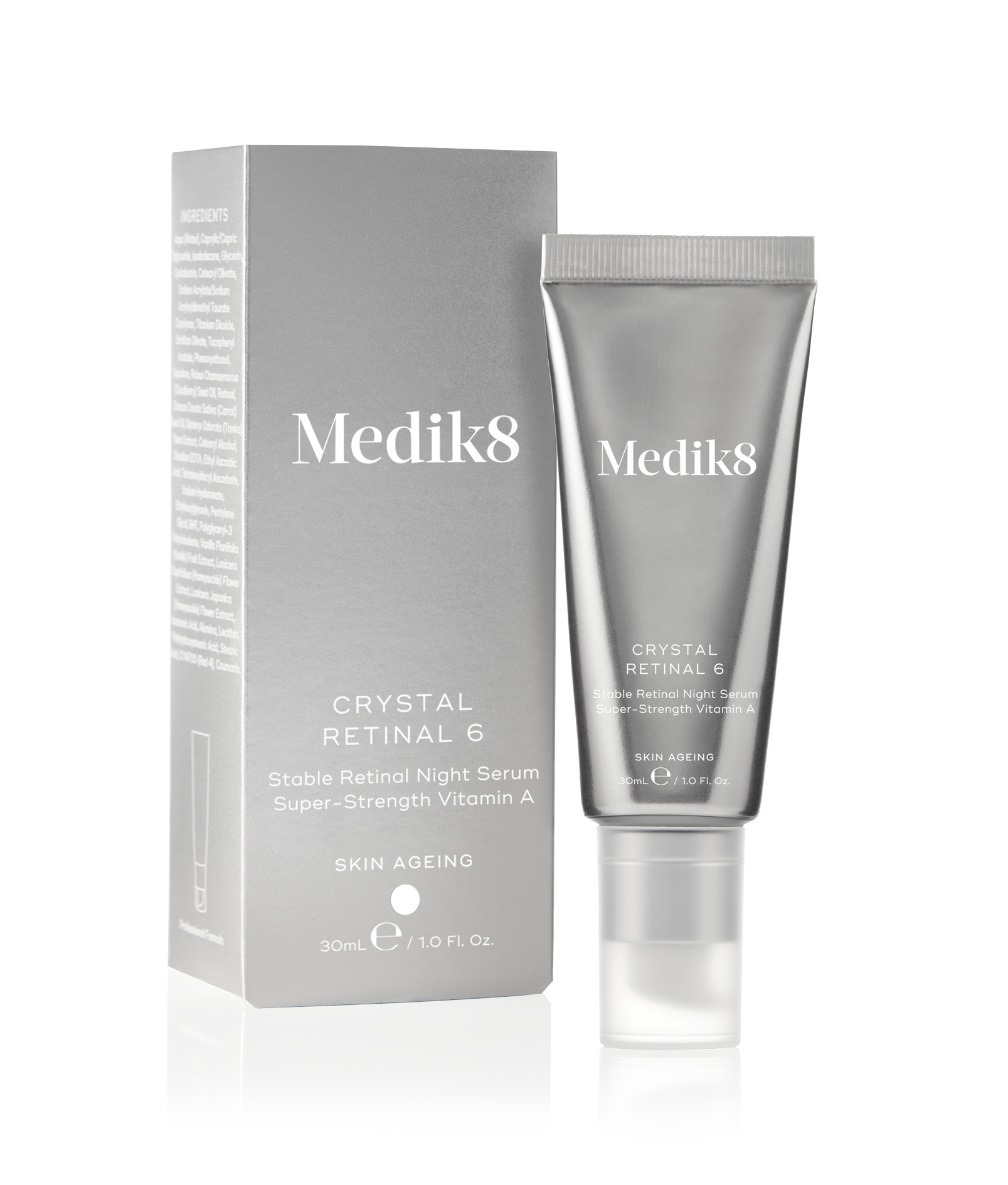 More products from Medik8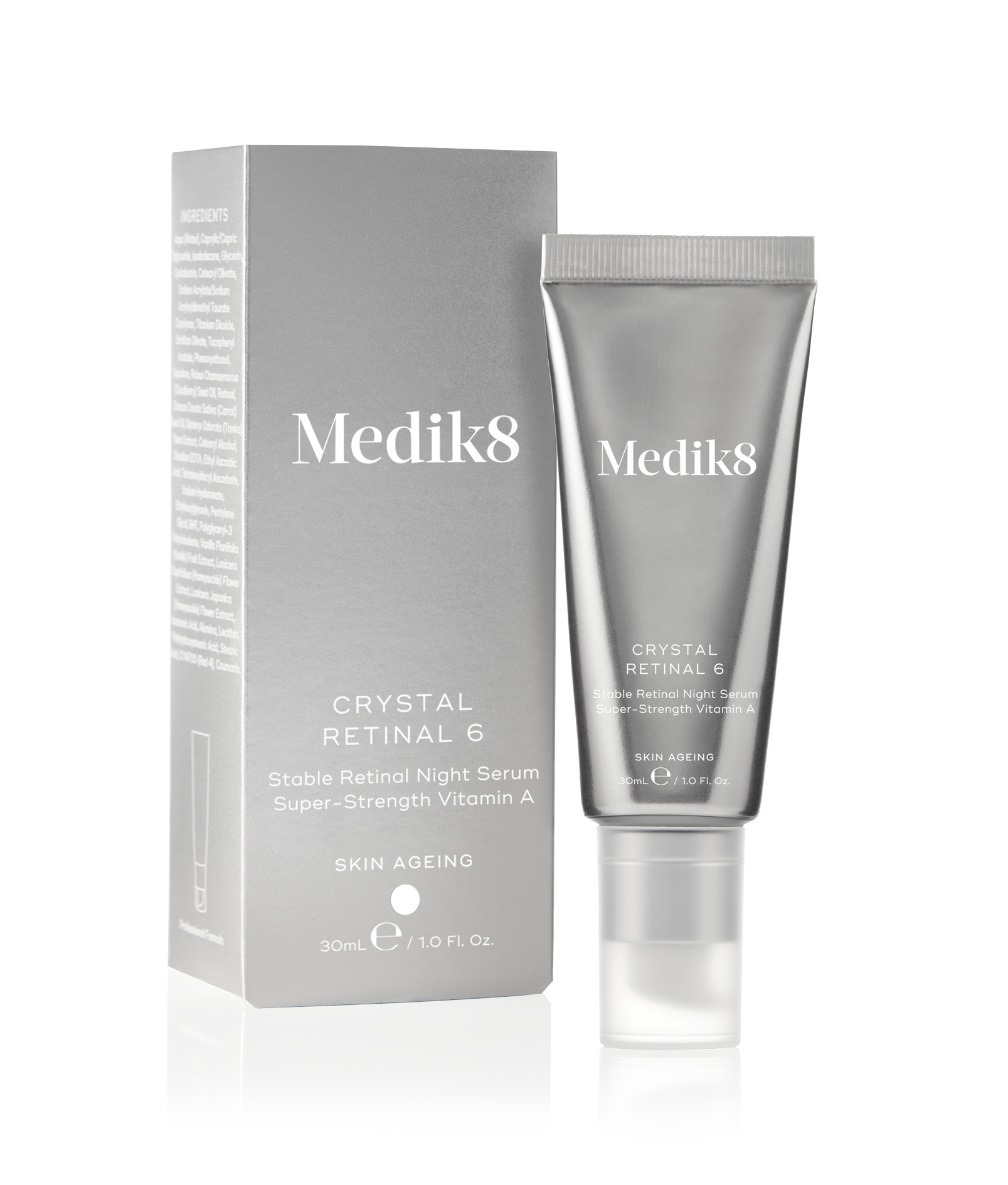 Experience next-generation anti-ageing with Crystal Retinal™ 6, a vitamin A serum that resurfaces skin and helps diminish wrinkles with minimal irritation.
Key Benefits
Supercharge the results of your night-time regime. Reducing the appearance of fine lines in just 4 weeks,3 Crystal Retinal™ 6 helps resurface and renew the complexion. The innovative formula has all the anti-ageing, radiance-boosting and clarifying benefits of retinol, plus the same low irritation. But armed with high-performance retinal, it is able to provide visible results up to 11x faster. The naturally peach-coloured serum-cream sinks effortlessly into skin to nurture and smooth complexion. Featuring a natural comforting aroma of vanilla and tonka bean, it leaves skin strengthened, hydrated and ready for overnight rejuvenation.
Key Ingredients
Encapsulated Retinaldehyde
Proven to work up to 11 times faster than retinol, retinaldehyde is a revolutionary new form of vitamin A that targets fine lines and wrinkles, pigmentation and uneven skin texture.
Glycerin
Naturally present in our skin, glycerin (As a natural humectant) draws water from the lower levels of the epidermis and from the atmosphere to itself. This helps to hydrate the complexion and enhance the skin's natural barrier function and leaves skin soft, supple and visibly replenished.
Hyaluronic Acid
With a unique ability to attract and retain more than 1,000 times its own weight in water, hyaluronic acid draws moisture from the surrounding atmosphere into the skin, leaving the complexion both nourished and supple.
Vitamin E
A lipid-soluble antioxidant that is naturally present in the skin. Vitamin E protects the skin from free radicals, stabilises retinaldehyde, and is regenerated by vitamin C for optimum power.
Rediscover youthful skin with Crystal Retinal™ 6, Medik8's latest innovation in vitamin A. Formulated with 0.06% stabilised retinal, a powerful derivative of vitamin A with next-generation anti-ageing results. Unmatched in its age-defying power, retinal can deliver results comparable to clinical-grade vitamin A up to 11 times faster than classic forms of retinol1. The ground-breaking overnight serum visibly minimises fine lines and wrinkles; firming and plumping the complexion to resurface skin texture and soften then face. Featuring hyaluronic acid and vitamin E, it hydrates skin at every level to deliver a supple, even-toned, more youthful-looking complexion. More than that, it actively helps reduce blemish-causing bacteria to keep skin clear and balanced. In just 4 weeks, skin is noticeably younger, smoother and undeniably radiant2. rystal Retinal™ 6 is perfect for those who are new to vitamin A or who are looking to upgrade their retinol results. [1 G. Seigenthaler et al., Biochemical Journal, 1990, 268, pp 371-378, 2 Independent user trial carried out over 8 weeks using Crystal Retinal 6. Individual results may vary.]
Shop 7 Eatons Hill Village, 640 South Pine Road Eatons Hill QLD 4037