Daily Radiance Vitamin C™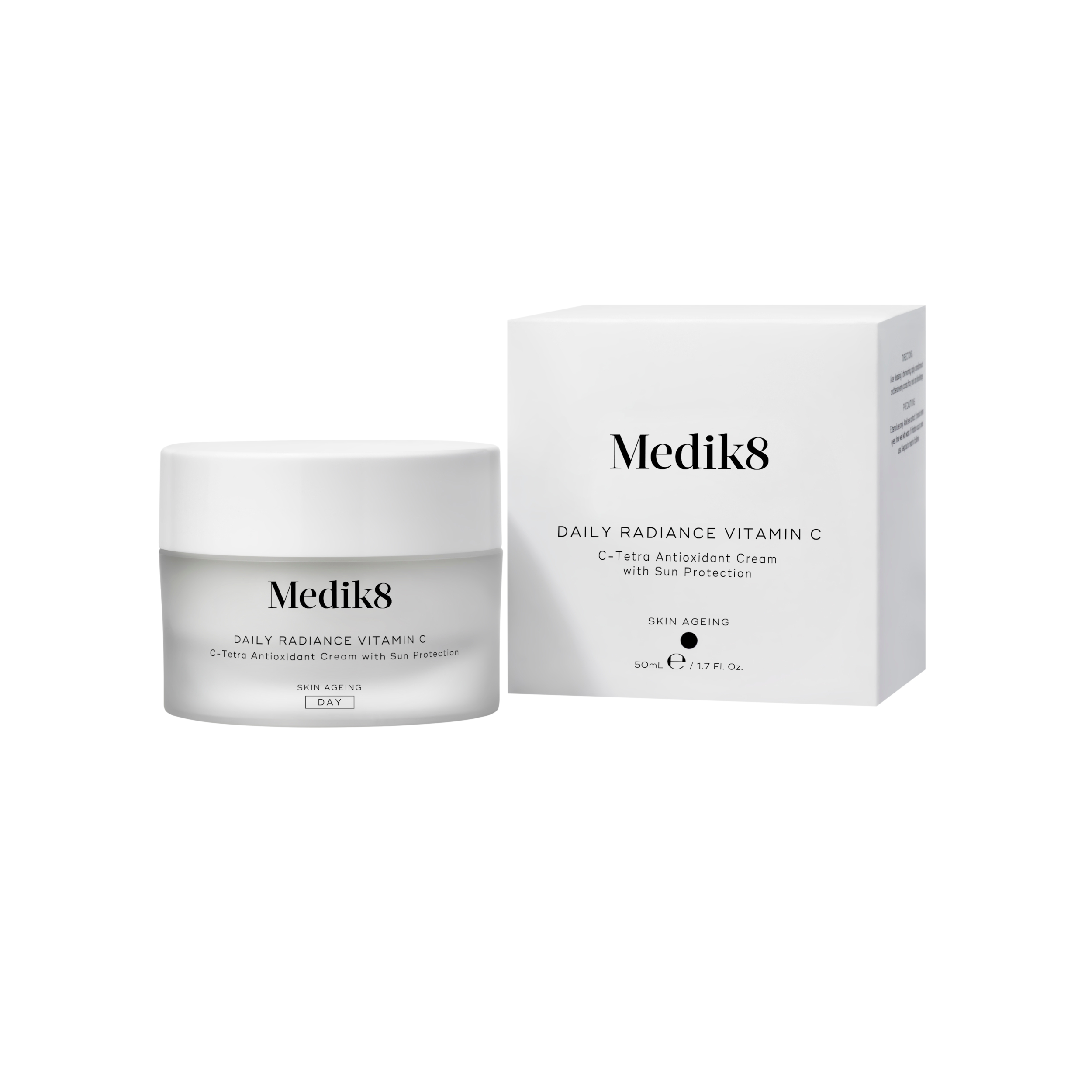 A hydrating day cream with a light cashmere consistency. The radiance-boosting formula is enriched with antioxidants to combat environmental damage and shield skin from premature ageing.
Key Benefits
An all-in-one moisturiser and sun protection that serves as the perfect introduction to vitamin C and Medik8's anti-ageing philosophy. Daily Radiance Vitamin C combines powerful antioxidant protection with sun protection. The multifunctioning vitamin C cream restores radiance and deeply hydrates skin, leaving a brighter, smoother, more youthful-looking appearance. With a light, natural citrus scent, this nourishing moisturiser uplifts the senses, awakening skin as it provides that all-important sun protection, without any sticky after-feel.
Key Ingredients
Hyaluronic Acid
With a unique ability to attract and retain more than 1,000 times its own weight in water, hyaluronic acid draws moisture from the surrounding atmosphere into the skin, leaving the complexion both nourished and supple.
L-Mandelic Acid
A softly exfoliating AHA with BHA power, chirally correct mandelic acid is able to work both on the surface of the skin and within pores for a deep but gentle exfoliation.
Retinol
Pure vitamin A enhance the skin's natural regenerative cycle; leaving skin looking even-toned and youthful.
Sun Protection
A complex of sun filters carefully selected for their longevity, safety and power to protect the skin against harmful UVA and UVB rays.
Superior UV Filters
A complex of sun filters carefully selected for their longevity, safety and power to protect the skin against harmful UVA and UVB rays.
Tetrahexyldecyl Ascorbate
A lipid-soluble form of vitamin C that provides exceptional antioxidant protection from harmful free radicals, for a youthful complexion.
Vitamin E
A lipid-soluble antioxidant that is naturally present in the skin. Vitamin E protects the skin from free radicals, stabilises retinaldehyde, and is regenerated by vitamin C for optimum power.
Energise your skin each morning with Daily Radiance Vitamin C, a hydrating vitamin C cream with a light, cashmere texture. Melting into skin upon application, it delivers powerful antioxidant protection alongside sun protection. Using a 100% stable and lipid soluble form of vitamin C, tetrahexyldecyl ascorbate, the formula is able to boost radiance from deep within, giving you that sought-after healthy glow. The antioxidant-rich formula protects the skin from environmental damage to prevent premature signs of ageing. Suitable for all skin types, the nourishing vitamin C cream smoothes existing fine lines and wrinkles. Enriched with hyaluronic acid and glycerin to draw moisture into the skin and keep it locked in tight. The result is a brighter and more even complexion, with future skin ageing and sun-induced damage successfully kept at bay.
Shop 7 Eatons Hill Village 640 South Pine Road Eatons Hill QLD 4037