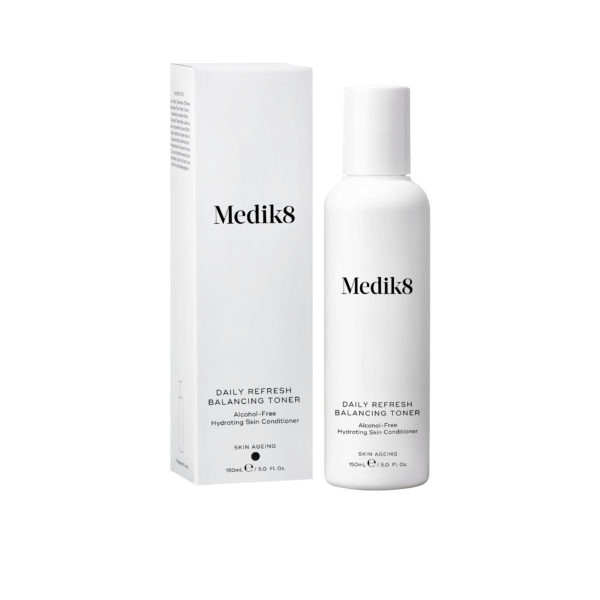 More products from Medik8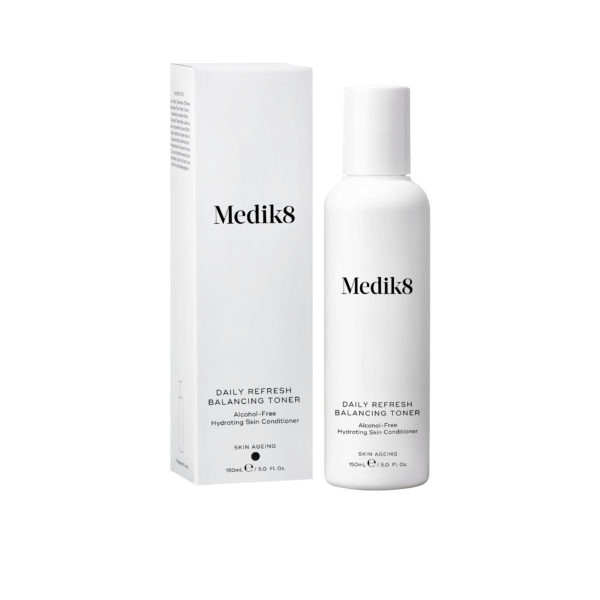 Rebalance and hydrate the skin with Daily Refresh Balancing Toner™. A pH balancing, probiotic toner that soothes and comforts while gently removing impurities.
Key Benefits
A refreshing and soothing toner that has 5 actions on the skin: pH balancing, pore refining, hydrating, anti-bacterial and anti-inflammatory. Daily Refresh Balancing Toner™ is a wonder product to add to your daily regime, not only to remove impurities, but to condition and balance skin. Gentle on even the most sensitive skin, it softly cleanses to allow for greater absorption of follow-up products. The refreshing toner has a natural, light scent courtesy of soothing aloe vera and refining witch hazel.
Key Ingredients
Allantoin
A botanical extract naturally occurring in comfrey root, an ancient herb renowned for its therapeutic properties. Allantoin promotes healing, speeds up cell renewal and softens skin.
Aloe Vera
A natural anti-inflammatory, aloe vera has been used for generations to soothe and heal the skin, leaving it calm and protected.
Niacinamide
Otherwise known as vitamin B3, this soothing anti-inflammatory quickly reduces redness and irritation surrounding the blemish, while regulating sebum production to prevent blocked pores.
Prebiotics
Maintaining skin balance through enhancing good bacteria and limiting the bad, prebiotics promote a healthy, balanced complexion.
Witch Hazel
A natural astringent, witch hazel gently tightens and firms the skin; leaving it lifted and smooth.
Rebalance and hydrate skin with Daily Refresh Balancing Toner™. A pH balancing, alcohol-free toner that soothes and comforts skin while removing excess oil and impurities. Suitable for all skin types, this gentle toner moisturises and calms skin while visibly refining the skin texture. Infused with skin conditioners and antibacterial to deeply hydrate while balancing the complexion. Complete with prebiotics to help boost the skin's defence mechanisms and maintain healthy skin. The complexion is left refreshed, clear and balanced.
Shop 7 Eatons Hill Village, 640 South Pine Road Eatons Hill QLD 4037