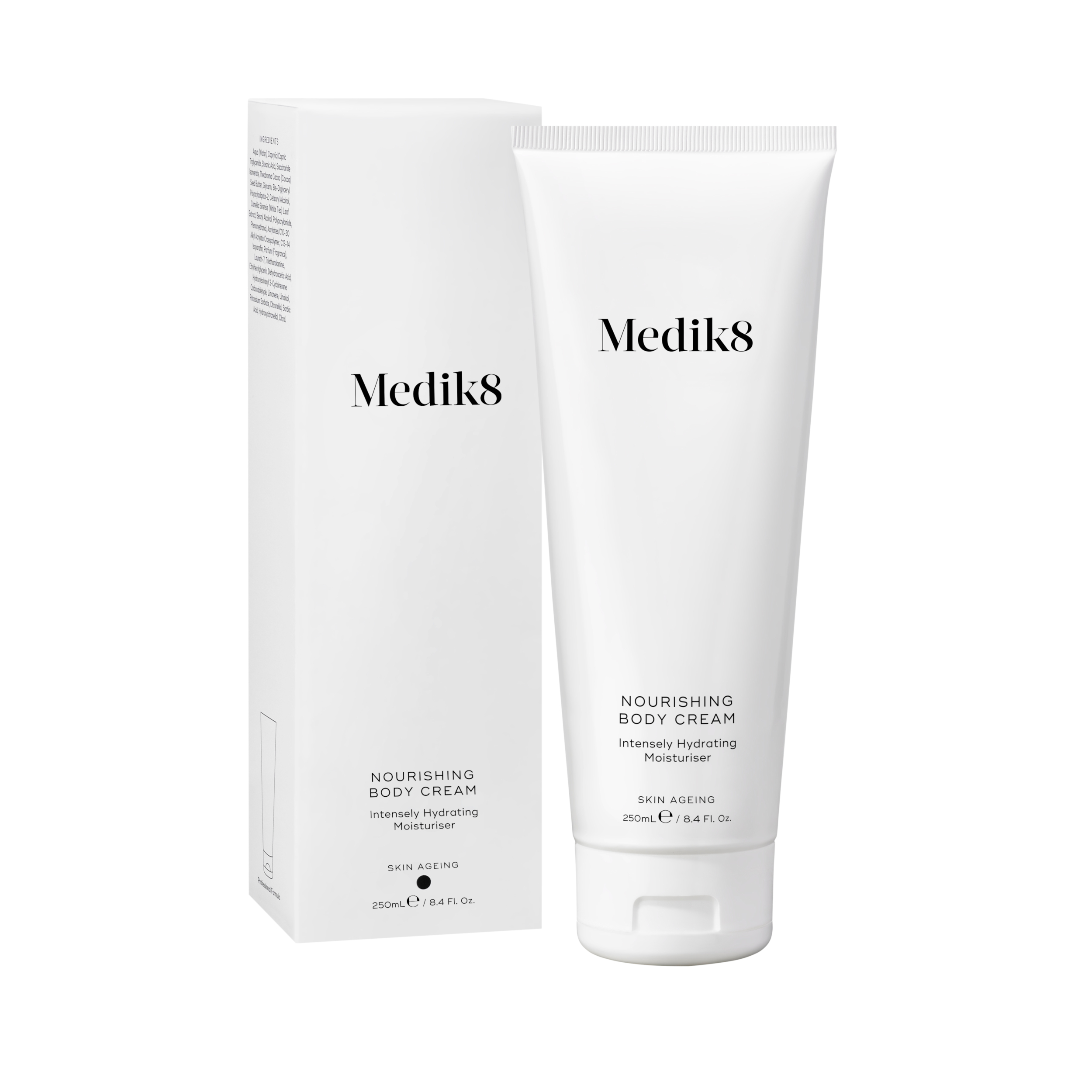 A fast-absorbing, hydrating body lotion that transforms dry skin. Uses Medik8's signature Moisture Magnets™ and natural glycerin to keep moisture locked in. Nourishing Body Cream™ has been formulated to work perfectly with your favourite Medik8 serums so that you can tailor your body care regime. Simply mix a few drops of serum into the cream before applying to your skin for a deeply moisturising and targeted body treatment.
Key Benefits
With the hydration of a rich lotion but the absorption of a light cream, Nourishing Body Cream™ is a perfect daily moisturiser. When applied after a bath or shower, the uplifting, clean scent doesn't overpower fragrances applied afterwards. With a cocoa butter base alongside Medik8 signature Moisture Magnets™, the rich lotion provides the ultimate hydrating experience. Skin is left silky and soft, without any greasy residue, allowing you to put clothes on almost immediately.
Key Ingredients
Cocoa Butter
A rich moisturiser to lavish skin with emollients, restoring its natural protective barrier to keep hydration locked in.
Glycerin
Naturally present in our skin, glycerin (As a natural humectant) draws water from the lower levels of the epidermis and from the atmosphere to itself. This helps to hydrate the complexion and enhance the skin's natural barrier function and leaves skin soft, supple and visibly replenished.
Moisture Magnets
Medik8's signature hydrators bind to skin cells and grab onto water to lock moisture in tight where it is needed the most.
Envelop your skin in Nourishing Body Cream™, a deeply hydrating body lotion to transform dry, dehydrated skin. Medik8's signature Moisture Magnets™ alongside natural glycerin keep water locked in tight for all-day comfort and hydration. The sumptuous formula helps to improve skin tone and elasticity, smoothing dry, rough patches while restoring the skin's natural protective barrier. Fast-absorbing and non-greasy, this rich body moisturiser is perfect for use post-shower to keep skin soft and silky. It can also be used to help soothe sunburn, calm irritation and pacify itchiness.
Shop 7 Eatons Hill Village 640 South Pine Road Eatons Hill QLD 4037