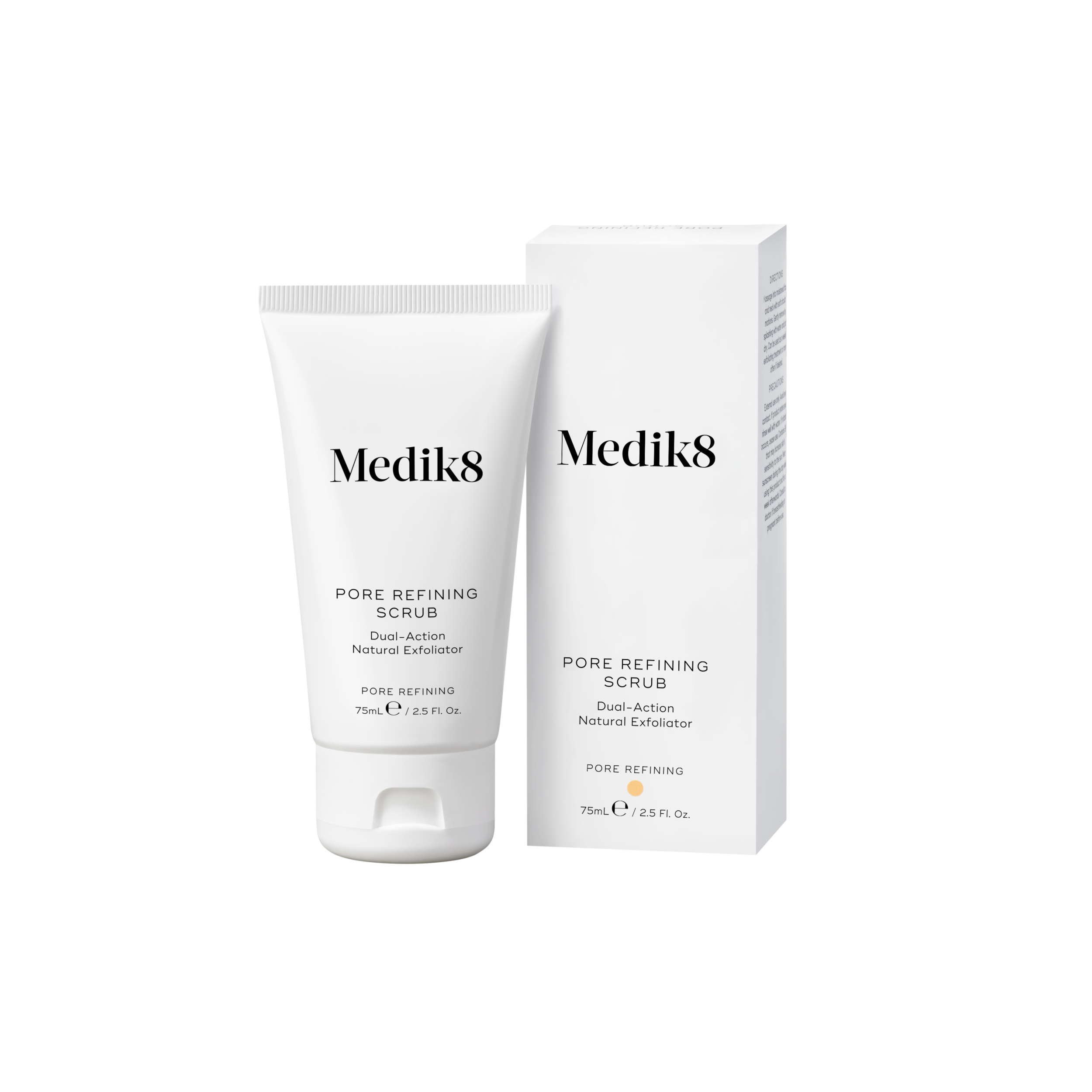 A creamy, dual-action facial scrub that uses jojoba grains plus salicylic and mandelic acid to refine pores, smooth skin texture and restore radiance.
Key Benefits
With its silky-soft, creamy texture and a sweet, honeysuckle fragrance, Pore Refining Scrub™ delights the senses as it helps renew and resurface the skin for a picture-perfect complexion. Salicylic and mandelic acid lift impurities from deep within the skin; decongesting enlarged pores so they can shrink back to their original size. At the same time, biodegradable jojoba grains delicately polish the surface of the skin; effortlessly restoring a healthy, natural glow. As always, your skin's health is our number 1 priority. That's why we use jojoba grains that are smooth and spherical in shape to ensure gentle exfoliation without irritation or scratching. Over time, pores are refined, skin feels soft to the touch, and the overall complexion is left beaming with youthful luminosity.
Key Ingredients
Jojoba Micro-Exfoliators
Perfectly spherical natural micro-exfoliators gently buff away dead skin cells to leave the complexion refreshed and refined.
L-Mandelic Acid
A softly exfoliating AHA with BHA power, chirally correct mandelic acid is able to work both on the surface of the skin and within pores for a deep but gentle exfoliation.
Niacinamide
Otherwise known as vitamin B3, this soothing anti-inflammatory quickly reduces redness and irritation surrounding the blemish, while regulating sebum production to prevent blocked pores.
Salicylic Acid
Decongesting and exfoliating from within the pore, salicylic acid breaks down clogged skin cells which could cause blemishes. At 2%, it is the maximum strength available without prescription for best possible results.
Reveal flawless, radiant skin with Pore Refining Scrub™. This creamy, dual-action facial scrub uses a powerful complex of chemical and physical exfoliants to completely transform the appearance of your skin. Salicylic and mandelic acid dissolve deep-seated impurities and oil to decongest and tighten pores, while natural jojoba grains gently slough away dead skin cells to help perfect the texture of the complexion. Pores are left virtually undetectable and skin feels soft, smooth and supple. Best of all, the velvety formula enhances the skin's receptiveness to the rest of your beauty routine by allowing follow-up products to penetrate deeper. The ultimate upgrade to your pore-perfecting skincare regime.
Shop 7 Eatons Hill Village 640 South Pine Road Eatons Hill QLD 4037