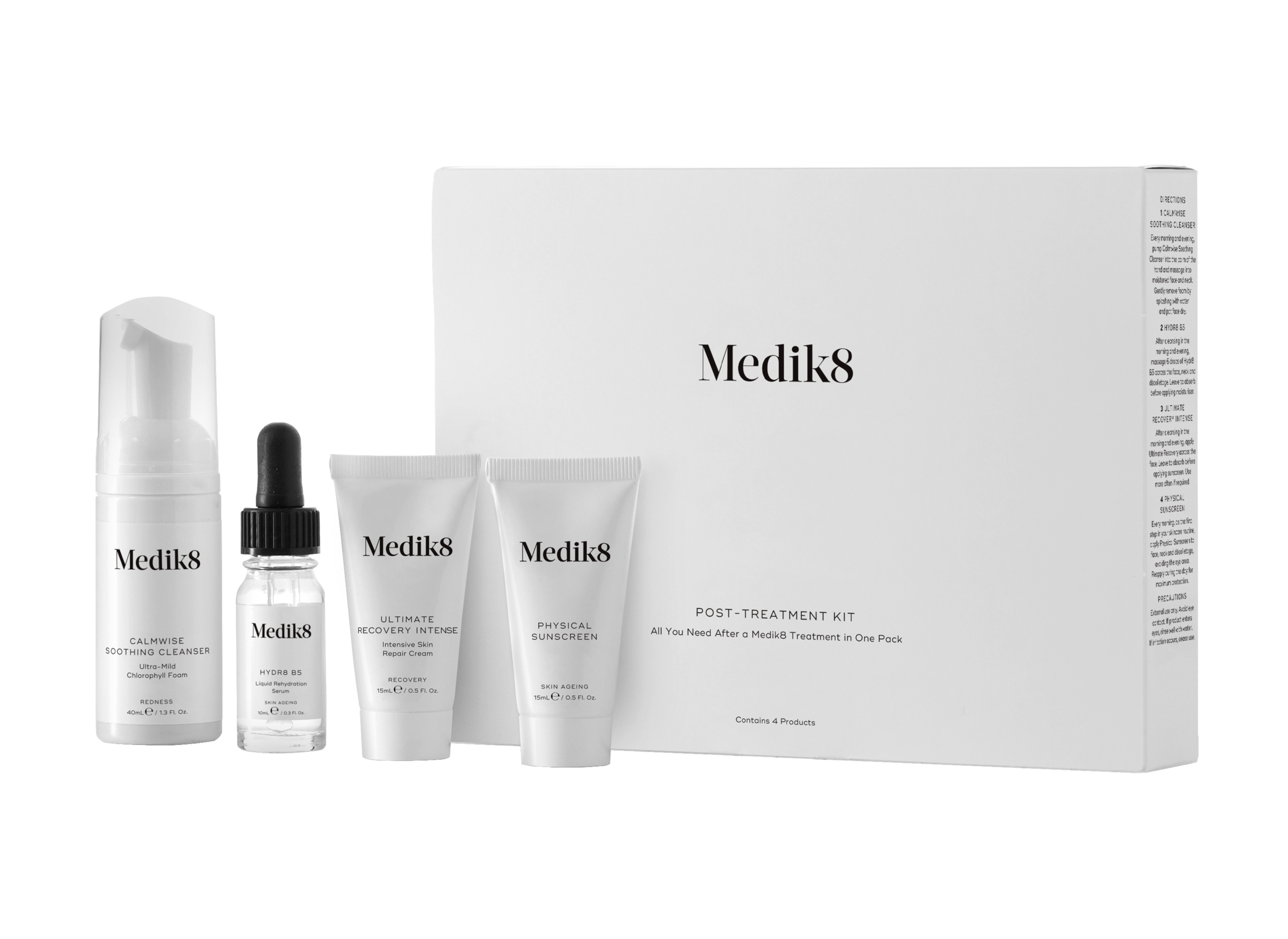 Designed specifically to help compromised skin to recover after a professional treatment or chemical peel. Includes Calmwise Soothing Cleanser – 40mL, Hydr8 B5 – 10mL, Ultimate Recovery Intense – 15mL, Physical Sunscreen – 15mL
Key Benefits
Designed specifically to help compromised skin to recover after a professional treatment or chemical peel. Featuring Calmwise™ Soothing Cleanser, Hydr8 B5™, Physical Sunscreen™ (SPF 30) and Ultimate Recovery™ Intense to calm sensitivity and reveal a radiant complexion. Find fast relief for red, irritated skin. Fortified with chlorophyll and teprenone, this purifying antioxidant cleanser gently removes make-up and impurities to leave skin cool, hydrated and detoxified. This lightweight crystal-clear serum sinks in quickly to flood the skin with moisture. Multi-weight hyaluronic acid draws and binds water from the atmosphere into the skin. Enriched with vitamin B5 to improve skin's water retention and regeneration, skin is left plump and noticeably hydrated. A rich, restorative cream for dry, compromised and post-treatment skin. Forms a barrier on the skin's surface to ward off everyday irritants and keep moisture locked in tight. Infuses skin with oxygen to support the natural healing process. Medik8's intelligent formula provides exceptional sun protection in a lightweight cream that doesn't leave a chalky cast on the skin. Packed with antioxidants, it shields skin from UVA, UVB and provides superior anti-pollution defence.
Key Ingredients
Perfluorodecalin
By enhancing the levels of oxygen in the skin, perfluorodecalin can promote the healing capabilities of damaged complexions.
Teprenone
A patented anti-redness active proven to prolong the life of skin cells by as much as a third. This helps to naturally enhance the skin's protective barrier, reducing the skin's sensitivity to external factors.
Vitamin B5
Also known as panthenol, vitamin B5 helps the skin to retain moisture, while also supporting the regeneration of skin cells.
Zinc Oxide & Titanium Dioxide
Mineral physical UV filters that provide broad spectrum protection against both UVA and UVB rays.
Calmwise Soothing Cleanser - Ultra-Mild Chlorophyll Foam; Hydr8 B5 - Liquid Rehydration Serum; Ultimate Recovery™ Intense - Intensive Skin Repair Cream; Physical Sunscreen
Shop 7 Eatons Hill Village, 640 South Pine Road Eatons Hill QLD 4037