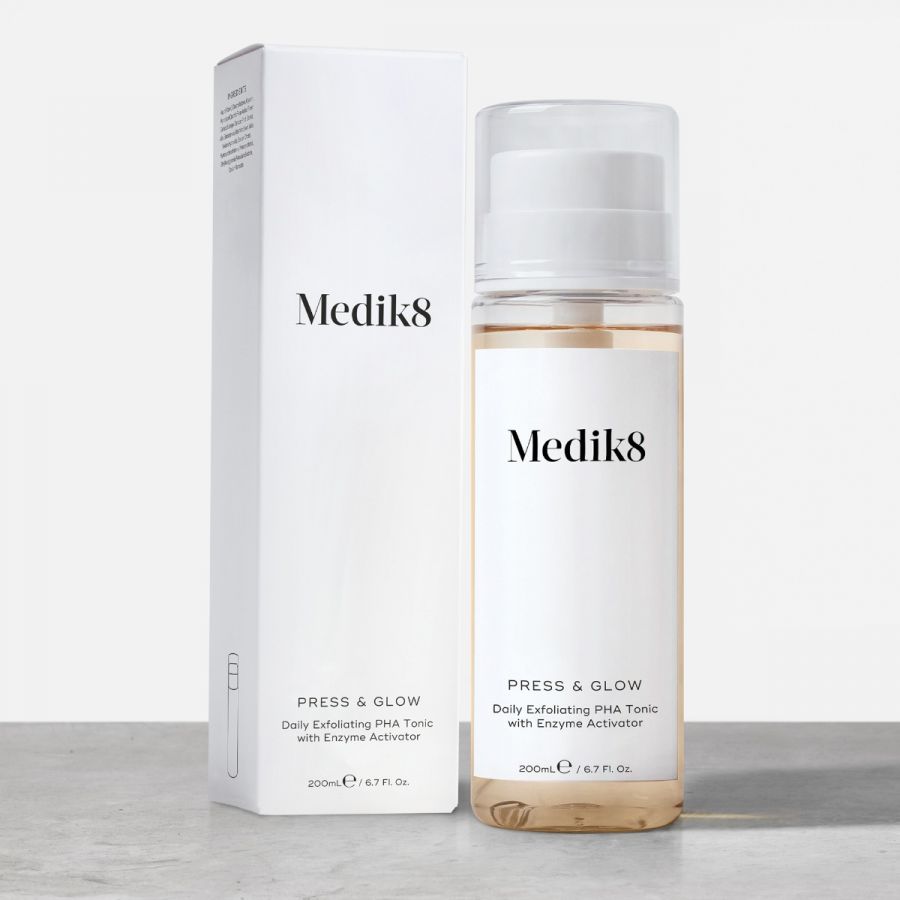 Experience the power of next generation exfoliating poly hydroxy acids (PHAs) with Press & Glow; the exfoliating acid toner for even sensitive skin.
Key Benefits
Skin is visibly resurfaced, hydrated and smoothed. Over time, Press & Glow helps to create a perfected skin surface which is not only better at absorbing active ingredients like vitamin C and A, but also creates a better base for makeup. It helps to gently lift the appearance of hyperpigmentation and can brighten the skin surface. The complexion is left visibly glowing, soothed and toned. The overall health of the skin is visibly maximised.
Key Ingredients
Aloe Vera
A natural anti-inflammatory, aloe vera has been used for generations to soothe and heal the skin, leaving it calm and protected.
Gluconolactone
A high performing, water-soluble PHA, gluconolactone converts into gluconic acid to gently exfoliate and hydrate the skin, resulting in a visibly more even, smoother skin surface.
Prickly Pear Extract
A natural enzyme activator, it helps to increase the rate of desquamation of the skin, and then the rate of cell renewal. This can help improve the clarity and luminosity of the skin, as well as the appearance of fine lines and wrinkles.
Thiotaine
An amino acid that occurs naturally in the skin, thiotaine supports antioxidant protection to minimise signs of premature ageing.
Experience the power of next generation exfoliating poly hydroxy acids (PHAs) with Press & Glow; the hydrating acid toner that helps to exfoliate the surface of the complexion for noticeable everyday glow. PHA gluconolactone acts as a moisture magnet to help comfort and hydrate the skin, making the surface exfoliation of the skin effortless. A non-drying, non stingy and non-sticky formula, this is the acid toner with all the power and none of the ouch. Press & Glow is a juxtaposition of powerful results and a gentle experience, leaving the skin visibly smooth, evenly-toned with a year-round glow. The addition of prickly pear extract helps to induce a more youthful cell renewal process. Press & Glow works in tune with vitamin A so you can boost your daily glow without sensitising the skin. Glowing skin has never been easier.
Shop 7 Eatons Hill Village 640 South Pine Road Eatons Hill QLD 4037