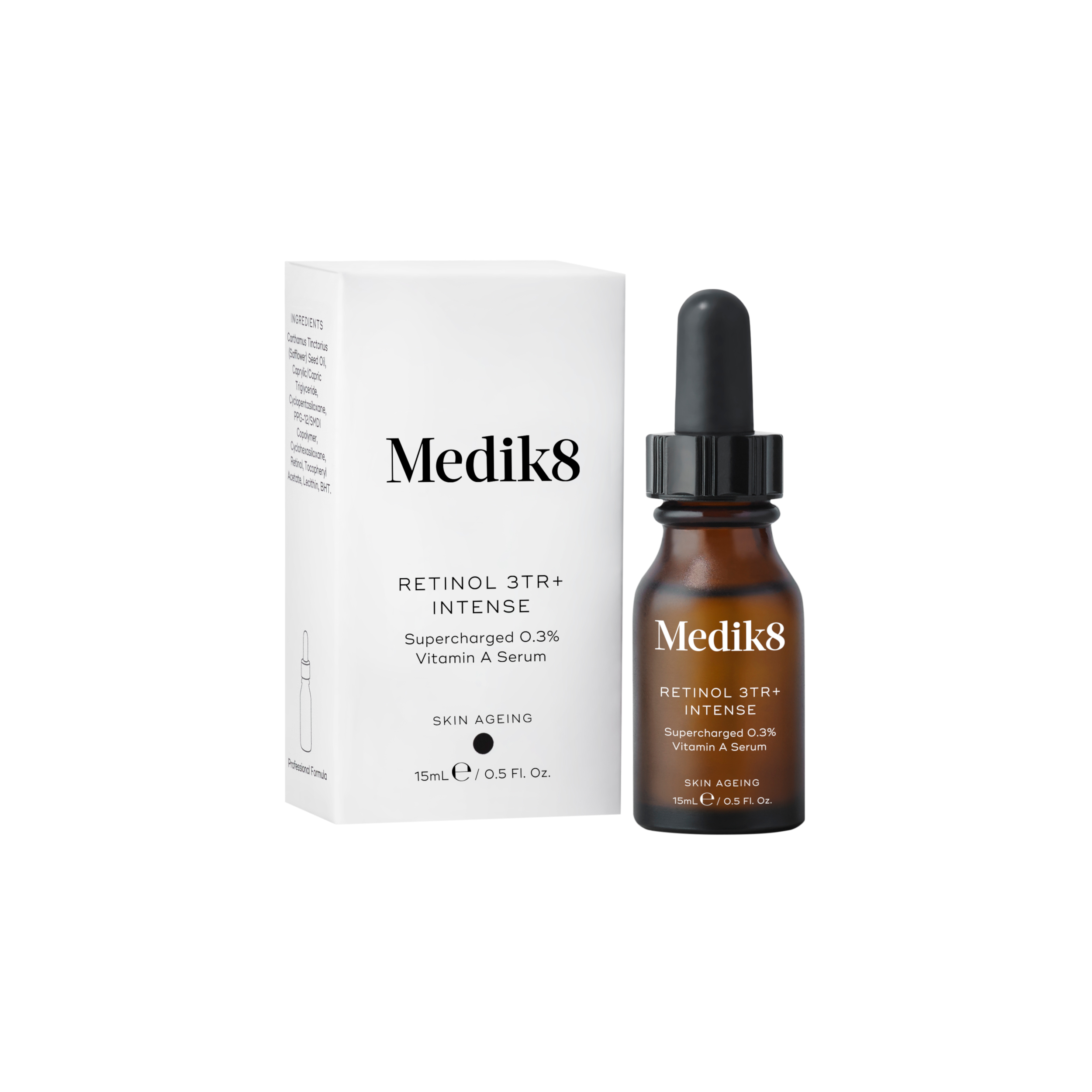 Supercharge your skincare with Retinol 3TR™ Intense. A vitamin A night serum that refines skin tone and texture to help fade lines and wrinkles while you sleep.
Key Benefits
Supercharge your night-time routine with this lightweight vitamin A serum. Deeply hydrating and easily absorbed, it features an intelligent Time Release system that prevents irritation and ensures retinol is evenly distributed across the skin. Upgraded with climbazole to kick-start your anti-ageing results, plus squalane to leave skin hydrated and supple. You will notice a rejuvenated, refined and more youthful-looking complexion.
Key Ingredients
Climbazole
Climbazole has been found to boost the activity of retinoids in the skin to give the power of higher percentages without the irritation.
Retinol
Pure vitamin A enhance the skin's natural regenerative cycle; leaving skin looking even-toned and youthful.
Squalane
A natural emollient; squalane helps to restore the skin's natural defensive barrier while deeply hydrating the skin.
Vitamin E
A lipid-soluble antioxidant that is naturally present in the skin. Vitamin E protects the skin from free radicals, stabilises retinaldehyde, and is regenerated by vitamin C for optimum power.
Take your evening skincare to the next level with Retinol 3TR™ Intense. A lightweight vitamin A night serum that refines skin tone and texture to visibly diminish fine lines and wrinkles while you sleep. As the most effective ingredient in anti-ageing, vitamin A also balances uneven skin tone and helps to decongest pores for a clearer complexion. Crafted with Time Release Technology, the innovative serum allows retinol to be "drip-fed" into the skin throughout the night, preventing unwanted irritation and dryness. Retinol 3TR™ Intense has been supercharged with climbazole, a compound proven to boost the results and anti-ageing benefits of vitamin A without increasing the irritation.* The formula is also infused with squalane, a deeply hydrating ingredient; specially selected to ensure skin is left instantly plumped and smoothed. Formulated with 0.3% retinol and supported by vitamin E for enhanced stability, this fast-absorbing serum is perfect for those new to vitamin A, or for those looking for more noticeable results than 3TR.
Shop 7 Eatons Hill Village, 640 South Pine Road Eatons Hill QLD 4037