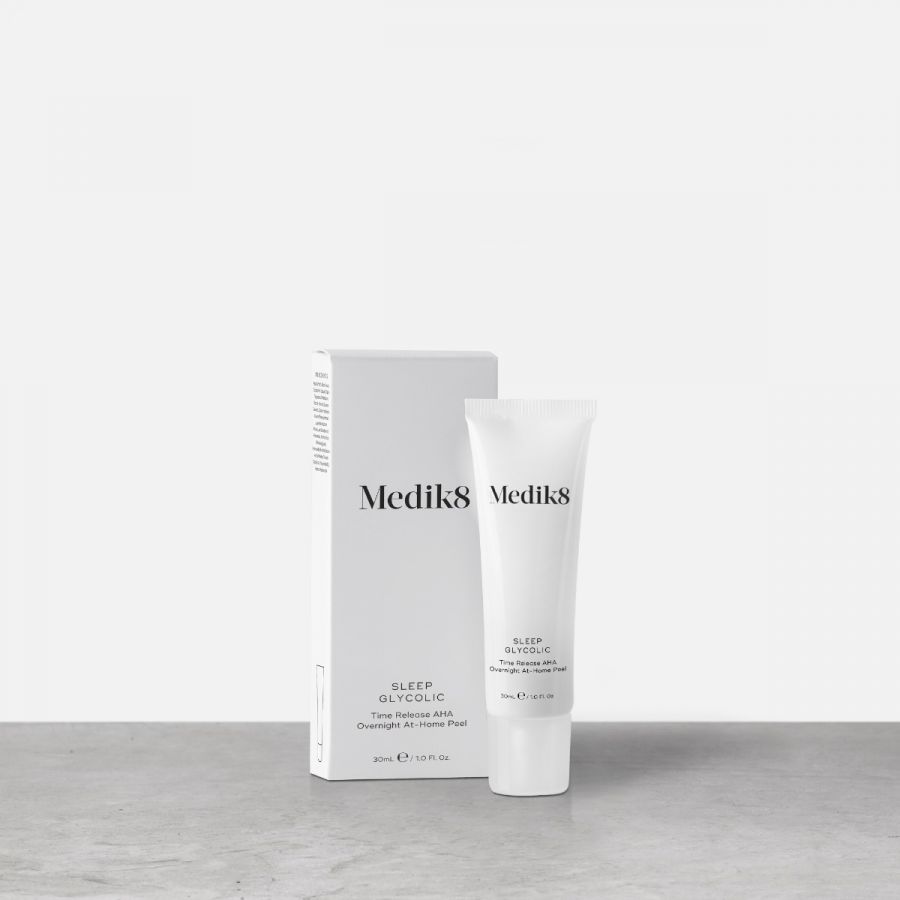 Sleep Glycolic is an at-home AHA peel which can deliver fast results while you sleep. Harnessing a true free glycolic acid value of 10% for enhanced penetration results, Sleep Glycolic effortlessly leaves the complexion visibly brighter, smoother and decongested.
Key Benefits
This bi-weekly treatment can transform dull, uneven textured skins who want visibly brighter, smoother skin - fast. 1.Radiant skin: Sleep Glycolic sloughs off dead skin cells to reveal a visibly glowing complexion 2.Refined texture and tone: Effortlessly smooths the appearance of fine lines and wrinkles, whilst restoring skin's natural luminosity as you sleep. 3.True 10% encapsulated glycolic acid: The high concentration formula is time-released into the skin overnight to gently deliver optimum AHA power. 4.Healthy Skin Barrier: Sleep Glycolic is non-drying on the skin - keeping our natural protective barrier healthy and strong is key. 5.Complement your in-clinic experience.: Ideal to prepare for a first ever peel programme, or to optimise your results between appointments.
Key Ingredients
Crystal Encapsulation
A cyclodextrin-based shell which encapsulates the glycolic acid. On the skin this slowly breaks down, delivering the glycolic acid gradually into the skin to reduce irritation.
Glycerin
Naturally present in our skin, glycerin (As a natural humectant) draws water from the lower levels of the epidermis and from the atmosphere to itself. This helps to hydrate the complexion and enhance the skin's natural barrier function and leaves skin soft, supple and visibly replenished.
Glycolic Acid
A powerful AHA, glycolic acid helps to visibly resurface and exfoliate the outermost layers of skin, to leave a brighter and clearer complexion.
Korean Clover Extract
Native to South Korea, Korean Clover Extract works alongside glycolic acid to support the skin's natural overnight repair and hydration process. It can help to maintain the natural skin barrier, leaving skin brighter, healthier and in sync.
A note on layering; as Sleep Glycolic is a direct acid, it should be the first step in your evening skincare routine. Layer all other serums and moisturisers over this.
Shop 7 Eatons Hill Village 640 South Pine Road Eatons Hill QLD 4037