Smooth Body Exfoliating Kit™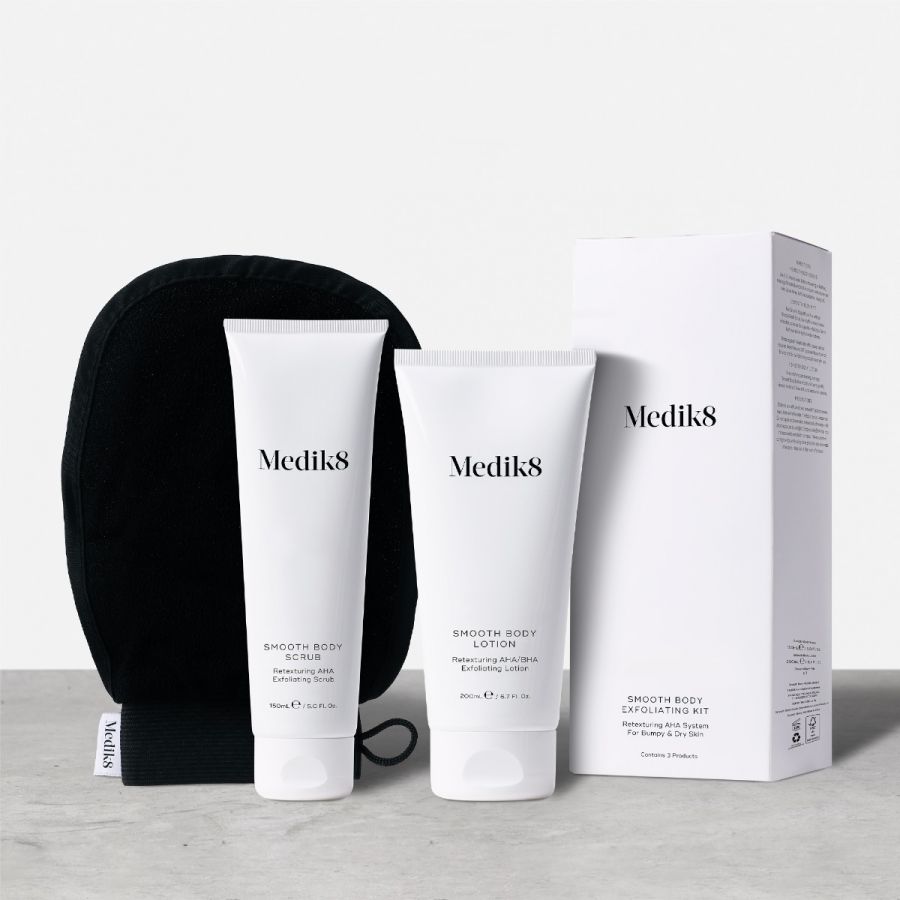 A 3 step exfoliating kit which quickly revitalises rough, dry or bumpy skin. Featuring both AHA and BHA, this powerful yet gentle trio of products also targets the appearance of ingrown hairs and uneven fake tan. Suitable for all skin types, including those prone to keratosis pilaris.
Key Benefits
Addresses the visible signs of keratosis pilaris. Rejuvenate, and deeply moisturise skin with Smooth Body Exfoliating Kit. Infused with exfoliating acids which effortlessly slough off dead skin cells and loosen blocked pores, the surface of the body skin is visibly smoothed. With ultra-nourishing components, the kit leaves legs and arms soft, sleek and silky. Rough, dry, flaky skin is history. Smooth Body Exfoliating Kit is also perfect for both fake tan prep and fake tan S.O.S. - creating the perfect, smooth surface for fake tan to adhere to, and if needed, can rescue any tanning mistakes by buffing away unwanted streaky areas.
Key Ingredients
Bamboo microparticles & Natural Pumice
Bamboo microparticles are made up of finely ground spherical polishing beads that can gently buff and polish skin, whereas natural pumice is an exfoliant derived from natural volcanic rock which lightly smooths over skin texture.
Lactic Acid
A gentle AHA that softly exfoliates the skin, while deeply hydrating.
Moringa Extract
A next-generation antioxidant that forms an urban shield on the surface of the skin to prevent damage caused by environmental pollutants. It is also rich in oleic acid and therefore able to enhance the skin's natural barrier.
Salicylic Acid
Decongesting and exfoliating from within the pore, salicylic acid breaks down clogged skin cells which could cause blemishes. At 2%, it is the maximum strength available without prescription for best possible results.
Urea
A part of the skin's Natural Moisturising Factors, it naturally draws water into the upper layers of the skin for hydration. It is also a powerful keratolytic agent, softening keratin plugs so they are easier to remove leaving the skin soft and smooth.
Instantly revitalise rough, dry or bumpy skin with this 3 step exfoliating kit. Featuring both AHAs and BHAs, this powerful yet gentle trio of products includes a scrub, mitt and a lotion. Together, they work to smooth over visible, raised skin bumps caused by a common skin condition called keratosis pilaris. The kit is suitable for all skin types and can also be used to target very dry skin, ingrown hairs and uneven fake tan. Featuring a Smooth Body Scrub uses a powerful complex of chemical and mechanical exfoliants to smooth the appearance of dry, bumpy skin. Infused with nourishing moringa butter, the creamy scrub effortlessly glides over the body to reveal skin that is visibly renewed, refreshed and soft to the touch. Smooth Body Mitt gently targets localised areas of rough, bumpy skin to expertly buff away blocked hair follicles. Easy-to-use and perfect for travel, exfoliation has never been so simple. Lightweight and fast absorbing, Smooth Body Lotion uses a powerful trio of exfoliants; lactic acid, salicylic acid and urea, which work together to gently resurface the skin. The exfoliating lotion also provides profound nourishment, thanks to an infusion of a complex of moringa butter and squalane to replenish the skin with hydration and essential lipids, helping soften and smooth the appearance of rough or dry skin.
Shop 7 Eatons Hill Village 640 South Pine Road Eatons Hill QLD 4037