Cosmelan 2 Maintenance Cream 30g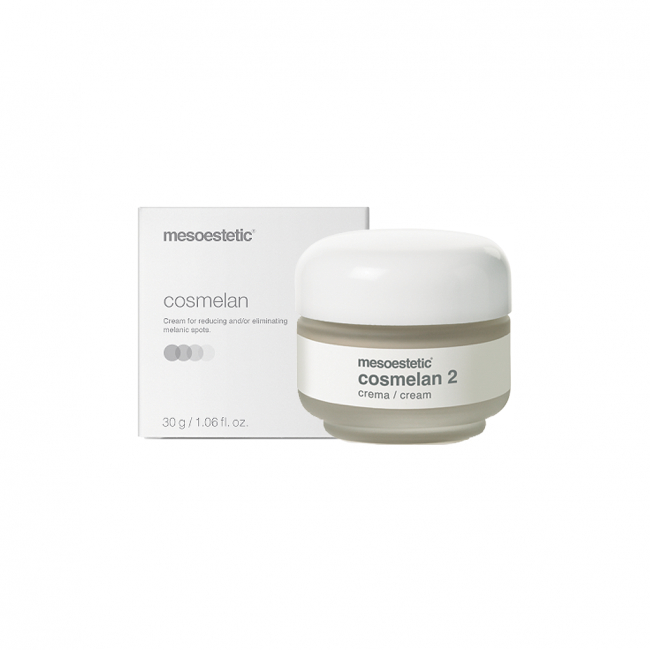 Home depigmenting treatment. Maintains the results obtained with the professional treatment cosmelan® and prevents the appearance of new skin alterations. Its main action is the attenuation or eradication of acquired skin pigmentation imperfections of melanic origin, located on the face, neck, neckline and hands. It also enhances skin brightness and tone and helps to improve skin beauty.
Key Benefits
Pigmentation concerns are a growing, global issue; they affect more than 90% of adults over the age of 50. Regardless of skin color, they are a significant issue because of their unattractive appearance and negative psychological and emotional impact, affecting quality of life. Skin hyperpigmentation is caused by abnormal production of melanin, the pigment responsible for skin color, and is a consequence of uncontrolled, localized overproduction of melanin by the melanocytes, causing irregular skin coloration and dark spots. Indicated to complete the depigmenting action during the elimination and/or reduction of spots of melanic origin. It intensifies the depigmenting results of cosmelan 1, keeping the production of melanin under control, preventing the reappearance of the spots that are being treated and controlling the appearance of new spots.
About this Product
Depending on the phase of the cosmelan® aesthetic treatment. Apply 3, 2 or 1 times a day: morning, miday and night, on clean and dry skin.
Shop 7 Eatons Hill Village, 640 South Pine Road Eatons Hill QLD 4037