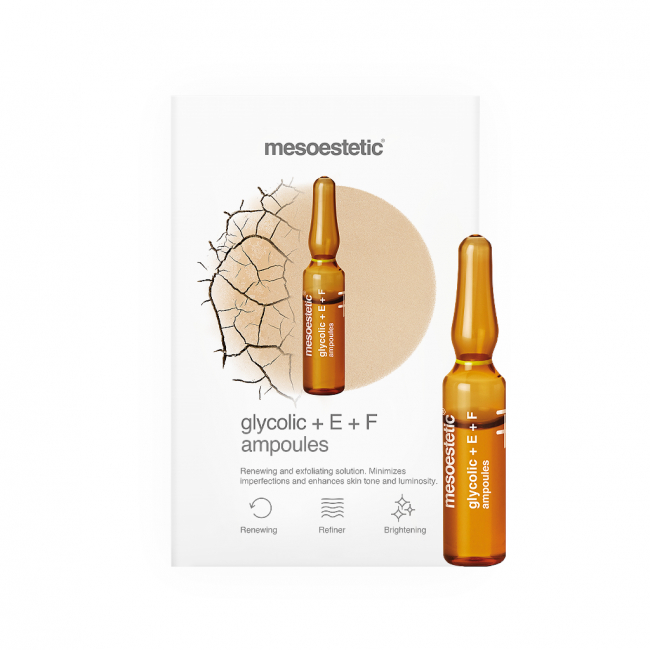 More products from Mesoestetic
Glycolic Acid + E + F 10 pack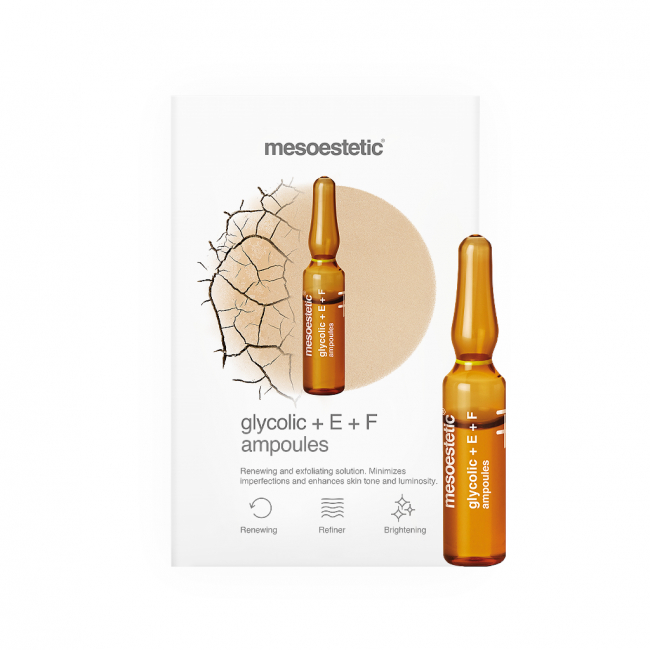 Exfoliating solution that accelerates cell renewal to reduce imperfections in the skin surface and increase tone and luminosity. It includes 10 ampoules.
Key Benefits
Indicated as a weekly skin perfecting and renewal treatment that is suitable for all skin types. On combination or oily skins, it improves the texture of the skin, reduces acne scars and minimises pore size. On dry and mature skins, it reduces wrinkles and expression lines and improves hydration. In the case of skin with pigmentation problems, it gradually reduces spots and enhances even skin tone and luminosity. Indicated as an intensive treatment to renew the skin after the summer or winter, restoring its luminosity and tone.
Key Ingredients
Glycolic Acid
A powerful AHA, glycolic acid helps to visibly resurface and exfoliate the outermost layers of skin, to leave a brighter and clearer complexion.
Vitamin E
A lipid-soluble antioxidant that is naturally present in the skin. Vitamin E protects the skin from free radicals, stabilises retinaldehyde, and is regenerated by vitamin C for optimum power.
Vitamin F
Otherwise known as ethyl linoleate or linoleic acid, vitamin F is an omega-6 essential fatty acid which deeply nourishes and hydrates the complexion.
The treatment consists of applying one ampoule (2 ml) weekly. Due to the acidic nature of its formula, it should be applied at night in order to avoid direct exposure to sunlight after application. The lower flap of the pack includes tools to help open, apply and store the product.
Shop 7 Eatons Hill Village, 640 South Pine Road Eatons Hill QLD 4037