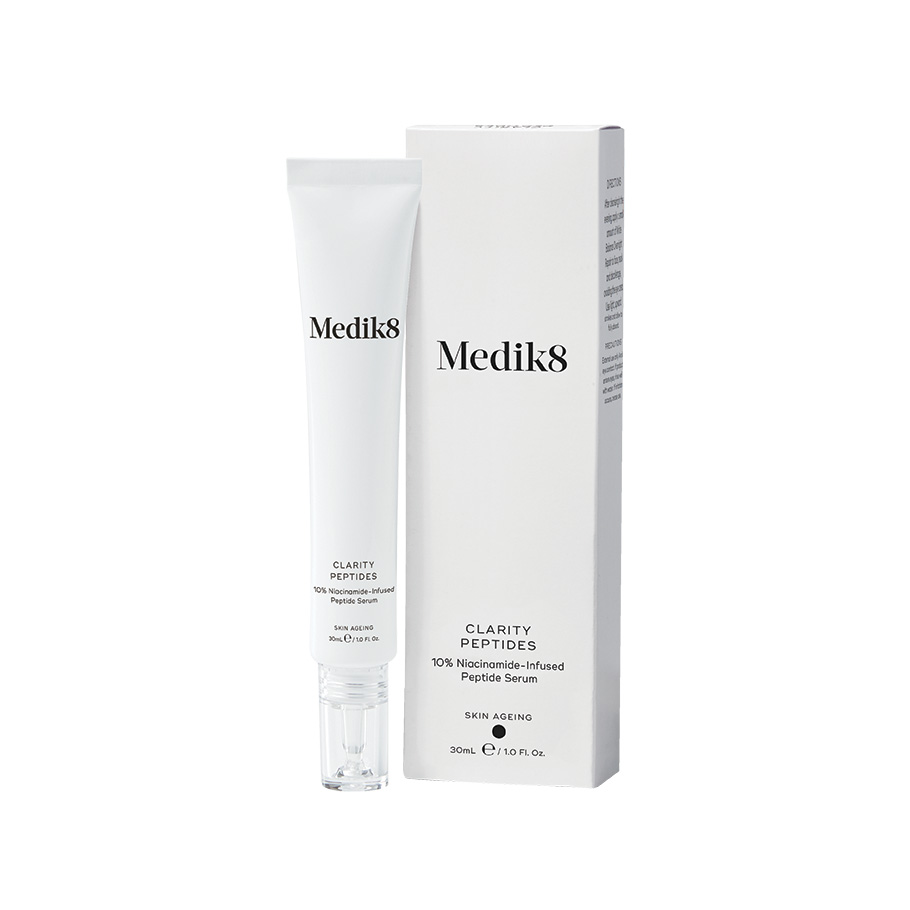 A clear solution for stressed-out skin. This soothing, lightweight infused peptide complex contains 10% niacinamide to promote healthy-looking skin whilst restoring radiance for a dewy complexion.
Key Benefits
This nourishing and clarifying peptide-infused serum penetrates the skin immediately with its lightweight and milky texture, helping create a luminous complexion. Crystalide peptide promotes the skin's natural reflectance, smooths the skin and protects its natural transparency. Combined with 10% niacinamide and zinc PCA, the soothing actives visibly smooth and perfect the skin. This multi-benefit serum suits all skin types and adjusts to each individual need to bring out your most nourished, translucent skin.
Key Ingredients
Crystalide Peptide
Crystalide is a peptide that works in two ways; it normalises the way skin cells renew, helping to create a uniform surface, and it upregulates a protein called α-crystallin which promotes skin transparency and luminosity.
N-Acetyl Glucosamine
This naturally occurring molecule in the body works synergistically with previously applied retinol serums to encourage the production of hydrating hyaluronic acid. N-acetyl glucosamine helps to block the creation of pigments in the skin, leaving a more even complexion.
Niacinamide
Otherwise known as vitamin B3, this soothing anti-inflammatory quickly reduces redness and irritation surrounding the blemish, while regulating sebum production to prevent blocked pores.
Zinc PCA
A natural mineral, zinc helps to regulate oil production, promote the skin's natural healing process and reduce inflammation. Zinc PCA is a specialised fused version of zinc that can balance sebum activity which helps to reduce the likelihood of blemishes occurring.
Sometimes life gets in the way of perfect skin. Lack of sleep, poor diet, alcohol, stress, hormones and the list goes on. Everything and anything can affect your skin; leaving it blemish-prone and dull. That's where Clarity Peptides comes in as a skin perfecting peptide complex to help enhance your skin's natural luminosity. It contains three potent actives: 10% niacinamide which calms and soothes redness, blotchy skin and blemishes, Crystalide peptide which adds light reflection for a translucent skin effect, and zinc PCA that minimises sebum production and balances skin bacteria to tackle blemishes. Achieve visibly perfected, luminous skin when you need it most.
Shop 7 Eatons Hill Village 640 South Pine Road Eatons Hill QLD 4037