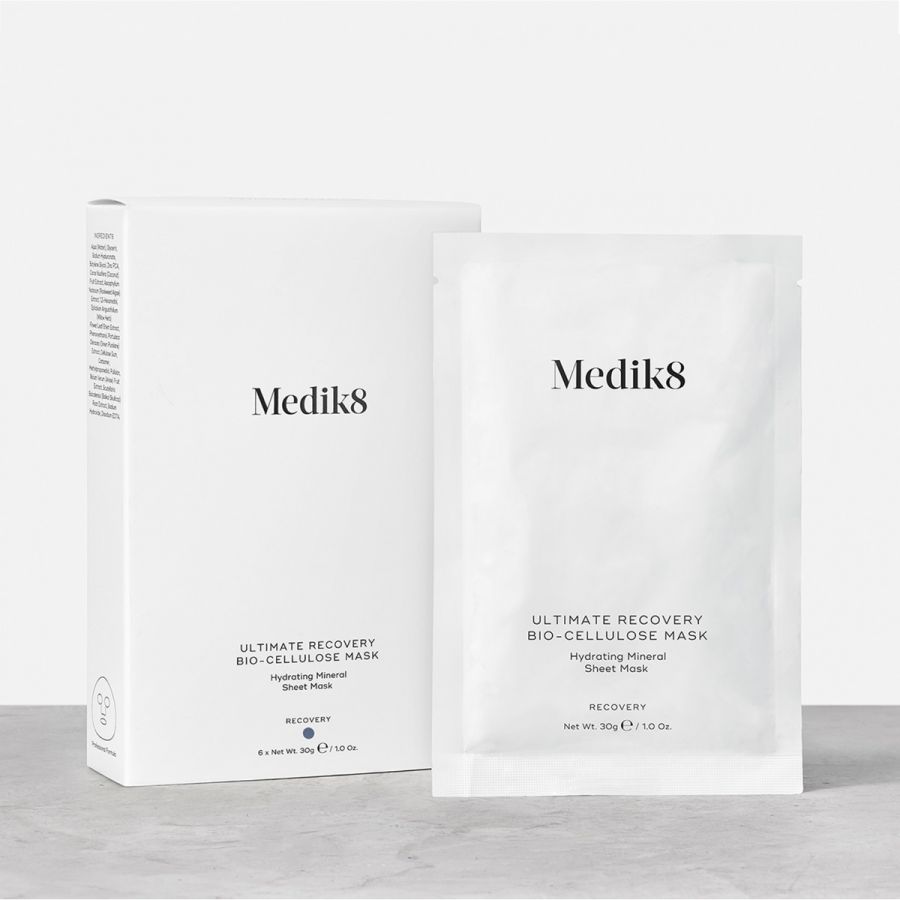 Considered the gold-standard in sheet mask materials, bio-cellulose creates an impenetrable veil to lock in moisture tight; deeply infusing the lightweight serum into the skin.
Key Benefits
Ultimate Recovery Bio-Cellulose Mask is the ultimate S.O.S treatment for skin in need of hydration. This soothing sheet mask provides intense moisture and helps to calm sore, dry skin by harnessing the power of nourishing and detoxifying natural minerals. Using premium bio-cellulose material which never dries out, the mask cools instantly upon application, enveloping skin in continuous hydration. Skin is left moisturised, calmed and ultimately refreshed.
Key Ingredients
Bio-Cellulose
Tightly woven natural fibres form a veil so fine it is able to fit into the finest lines and wrinkles for optimal delivery of a lightweight serum infused mask.
Hyaluronic Acid
With a unique ability to attract and retain more than 1,000 times its own weight in water, hyaluronic acid draws moisture from the surrounding atmosphere into the skin, leaving the complexion both nourished and supple.
Rockweed Algae Extract
A species of brown algae with extraordinary mineral content. Rockweed algae promotes moisturisation and provides antioxidant protection.
Zinc PCA
A natural mineral, zinc helps to regulate oil production, promote the skin's natural healing process and reduce inflammation. Zinc PCA is a specialised fused version of zinc that can balance sebum activity which helps to reduce the likelihood of blemishes occurring.
Bio-cellulose masks are formed from millions of tiny natural fibres tightly woven together, forming a micro-thin sheet resistant to breakages and tears. The bio-cellulose is able to hold many times its own weight in liquid and is infused with an ultra-hydrating, lightweight serum. The tiny fibres fit perfectly into contours and fine lines to ensure optimal hydration levels where you really need it. Enveloping the complexion in a veil of hyaluronic acid, the serum draws water from the lower layers of the skin and the atmosphere to rehydrate the upper layers. Infused with mineral zinc, the mask promotes natural skin balance and the skin's natural healing process, while rockweed algae extract enhances moisture levels and fights free radicals. Skin is left nourished, refreshed and soothed.
Shop 7 Eatons Hill Village 640 South Pine Road Eatons Hill QLD 4037